Stories/Essays
Sassafras' writing has been included in a variety of anthologies and collections. These anthologies include:
Forthcoming: 
Radical Handbook for Youth                                    Edited by Matt Hern                                                                              
No Safewords – A Marketplace Collection               Edited by Laura Antoniou
50 WRITERS ON 50 SHADES OF GREY           Edited by Lori Perkins
Gender Outlaws: The Next Generation
In the 15 years since the release of Gender Outlaw, Kate Bornstein's groundbreaking challenge to gender ideology, transgender narratives have made their way from the margins to the mainstream and back again. Today's transgenders and other sex/gender radicals are writing a drastically new world into being. In Gender Outlaws, Bornstein, together with writer, raconteur, and theater artist S. Bear Bergman, collects and contextualizes the work of this generation's trans and genderqueer forward thinkers — new voices from the stage, on the streets, in the workplace, in the bedroom, and on the pages and websites of the world's most respected mainstream news sources. Gender Outlaws includes essays, commentary, comic art, and conversations from a diverse group of trans-spectrum people who live and believe in barrier-breaking lives.
Say Please: Lesbian BDSM EroticaSinclair Sexsmith presents a cornucopia of lesbian kink —
tantalizing tales rich in variety and saucy details of girls put in their place — and held there firmly. A girly-girl reaps a sweet punishment for refusing to mess up her oh-so-pink lipstick and a well-equipped top takes charge. Whether readers dream of surrendering to a lover or of taking control, Say Please offers plenty of erotic inspiration and gives readers exactly what they want!
Queer Girls In Class: Lesbian Teachers and Students Tell Their Classroom Stories
Queer Girls in Class: Lesbian Teachers and Students Tell Their Classroom Stories is a compilation of personal essays by
lesbian teachers and students who speak about sexual identity and its influence on the teaching and learning process. The mission of this anthology is to provide, through personal stories, an analysis of how sexuality—specifically, how identifying as a queer woman—can affect classroom dynamics in high school and university settings. Despite a perceived cultural acceptance of the GLBTQ community in the media, many gays and lesbians still suffer from their own internalized homophobia, as well as the homophobia of the outside world. These twenty-six essays give readers the opportunity to recognize, connect with, and critically think about the personal and political challenges and triumphs that queer women, whether out of the closet or not, have experienced in the classroom and beyond.
Double Edge: The Intersections of Transgender and BDSM
Double-Edge: The Intersection of Transgender and BDSM is a smart book that tackles difficult, fascinating, controversial subjects with panache and compassion. It's the latest public service from the fierce and tender pagan priest, activist, farmer, community organizer, oracle, nightmare of those devoted to normal and ordinary, and all-around role-model Raven Kaldera, whose complex identity gives him a rather comprehensive perspective on the topics of kinky sex, alternative relationships, and gender variance.
Spirit of Desire: Personal Journeys In Sacred Kink
S
pirit of Desire features thirty-three profoundly personal and diverse stories sharing the revelations, power, connections, and pathways explored in Sacred Kink. Each of these passages is shared from the heart, a glimpse into the intimate. Some of the authors have been on the road for decades, others for a short time; some have spoken about their passions before, others are only now putting pen to page. Through their eyes we will dive deep and find new insights into: Catharsis. Clarity. Intimacy. Lust. Devotion. Passion. Beauty. Hope. Energy. Faith. Intention. Fear. Consent. Service. Openness. Suffering. Surrender. Connection. Sacredness. Desire. Forgiveness. Divinity. Epiphany. Love… and more Whether you are a traveler on the road of sexual expression, a spiritual seeker on a quest for enlightenment, or a curious creature wondering what this is all about… be prepared to take your breath away, be left hot and bothered, ponder the nature of love, and meditate on a wide variety of odysseys.
Trans Bodies, Trans Selves
Sassafras is co-authoring the chapter on adolescents. Trans Bodies, Trans Selves is a resource guide for the transgender population, covering health, legal issues, cultural and social questions, history, theory, and more. It is a place for transgender and gender-questioning people, their partners and families, students, professors, guidance counselors, and others to look for up-to-date information on transgender life.
LGBTQ: America Today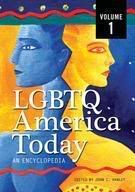 Lesbian, gay, bisexual, transgender, and queer culture is a vibrant and rapidly evolving component of the American mosaic. LGBTQ Americans have endured many struggles, and during the last decade in particular they have made tremendous contributions to our multicultural society. Drawing on the expertise of numerous expert contributors, this book from Greenwood Press gives students and general readers a current overview of contemporary LGBTQ American culture. Sweeping in scope, the encyclopedia looks at literature and the arts, associations and organizations, individuals, law and public policy concerns, health and relationships, sexual practices, and various other areas. Included are more than 600 alphabetically arranged entries
Gendered Hearts
Celebrating a radical frontier of sex and love within the queer experience, Gendered Hearts breaks new ground by focusing on trans writers from differently gendered perspectives. The collection includes thirty-one first-person narratives, poems, and interviews that create a raw and honest depiction of dating, sex, love, and relationships within the trans community.
Visible: A Femmethology Volume one & two
Visible: A Femmethology, the only two-volume anthology devoted to femme identity, calls the LGBTQI community on its prejudices and celebrates the diversity of individual femmes. Award-winning authors, spoken-word artists, and new voices come together to challenge conventional ideas of how disability, class, nationality, race, aesthetics, sexual orientation, gender identity and body type intersect with each contributor's concrete notion of femmedom.(Sassafras appears in both volume 1 and volume 2)
Trans-Fusions
Trans-Fusions' is a collaborative project featuring over a dozen of the Transgender Communities hottest Artists, Musicians, Performers, and Speakers from around the world! The Album encompasses everything from folk to dance music, to spoken word, and even visual Art. The Backgrounds, and Identities of the Artists are as diverse as the music and covers a broad spectrum of the Transgender Community. Sassafras' work appears on the 1st CD as well as Trans-Fusions 2
The Femme Coloring Book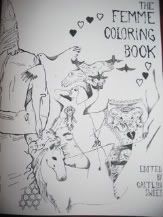 Edited by Caitlin Sweet, The Femme Coloring Book is a collection of illustrations by femmes celebrating and exploring different types of femmeness. The coloring book brings together the art of 47 diverse femmes.